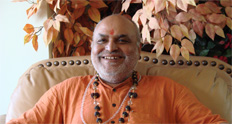 His Holiness Swami Sarvanand Saraswati is blessed name among the people of higher motives engaged in mission for human and environmental development.
Swamiji has attracted a large number of intellectuals, teachers and social workers and has motivated them to work for the promotion of human rights, moral values, social harmony and social discipline. He has launched many projects to render service to the poor students and girls. His mission is a unique mission – to link spirituality with social responsibility. He has made people socially more responsible towards others, better citizens and happily tolerant. His spirituality is thus not only confined to the private efforts of an individual.
M.A.(Philosophy & Psychology)
Vedantacharya, French Higher Diploma
Mantra, Mani, Herbal & Vastu Specialist
Vedic Philosophy, Comparative Study of Religious and Philosophical Thoughts.
Working on Buddhisim, Hinduism and Islam, and their Human implications.
Mantra, Mani, Herbal & Vastu Specialist.
Shrishivdurgaji (Goddess of power)
Shriyantram (Power of Wealth, Unity, Love)
How to learn in Mother's womb
Meditation & will power
Religion and superstitions
Save ecology and environment
Founder / President
International Bhajan Sukhsewa Mission, New Delhi. India
Chancellor
Bhartisreepeeetham University, New Delhi, India
Founder / President
Sarvananad, New Delhi, India
President
All India Quami Ekta Committee, New Delhi, India
Member, Board of Directors
OISCA International, Tokyo, Japan
National Afforestation & Eco Development Board, India
Chairman
Bhajan Sukhsewa Mission, U.S.A., U.K., Canada, France